SwingLife Stories From True SLS Couples
Few months after marriage, me and my husband, Dean, decided to take a short vacation to Vegas. I was working from home at the time, so it was easy for us to plan trips dependent on Dean's availability. Dean works as a sales office, so he was much of the time a very open-minded fellow. In contrast, I was a shy and narrow-minded, my world was to please my husband in every way possible. Dean was always helpful and taught me to explore the joys of life. Our sex life was cool, so I thought until Dean brought up the topic on porn videos, sexual outfits etc. I secretly found them interesting and was open to new ideas, but Dean wanted more. He has been nurturing the idea of swinging lately and wanted us to try it out in Vegas. We had been to Vegas before, but this time he wanted us to try it out with an old pal in Vegas.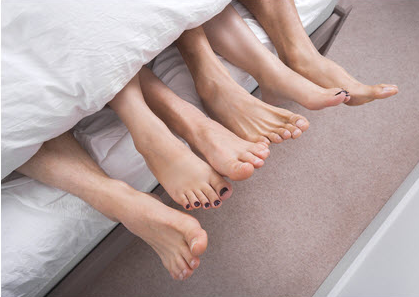 Going to Vegas
I was scared at first but Dean was someone I trust, so I was open to learn and explore. So, we made it to Vegas and we quickly rolled out on our first night to a strip club in Vegas. I was speechless to see so much body exposure in public but excited inwardly. I had witnessed such with videos, but not in a live show. In no time, Dean was getting horny and so was the people around us. I was shy but felt my body moving too as I tried to keep up with the crowd. At last, we got a seat, while seminude girls and guys continuously moved around. With all happening in the background, a black guy in decent outfit tapped Dean on the shoulder. Appeared more like a familiar face was quick to say 'HI'. He came along with a girl.
The Twist
The instant Dean turned to them, he became overjoyed and introduced everyone. There were Tom and Kate. We all got chatting, and I understood, Tom was Dean's former colleague. But Kate struck me more in particular, she bonded well with Dean. She was also beautiful and friendly as she started a conversation with me. She appeared to be more into Dean. Dean knows how to keep a good conversation, and at a point, his hands were around her waist. For the first time, I was not bothered about Dean's action as I found comfort in Tom. Tom was smooth and more masculine than Dean, this was something I craved for in a man. At this point, I was down for anything. Dean knew what I liked, and I could only commend him for meeting my taste. My little shyness was nowhere to be found, now I am ready.
In my happy mood, I drowned myself into gulping more wine as much as I could remember while I enjoyed Tom's company. By midnight, we decided it was time to leave. Dean was kind to set things in motion, he whispered to me Kate was willing to get down with him. I needed Tom that night, so I made the first move by collapsing on his shoulders as we walked to our hotel room. From there, things happened really fast, I was definitely under the influence of alcohol. Dean and Kate moved a little fast. They both shared a bed, and in few minutes, I noticed Dean was fucking Kate. I could not comprehend what transpired, but it was a beautiful sight. Dean was doing it all right, as Kate gave out a slow moan.
The Happy Ending
This is not a dream, I too was feeling every stroke from Dean, I have never really praised his sex skills. I quickly turned around and touched Tom, he was already hard. Tom was quick to steal a kiss. I did enjoy it, and the next we went deeper and deeper. Soon our clothes were off, and I got on the bed positioned for the 'doggy style' I learned from one of the porn clips I shared with Dean. Tom had no problem with it, as he was a patient teacher ready for the task. Slowly he slid into me, before pounding fast from behind. I enjoyed his aggressiveness in bed and we tried more positions. I had multiple cums for the first time in a while, all thanks to Tom.
The following morning, I woke up feeling a little dizzy. The room was still dark, so I pulled myself closer to Dean. Dean was awake, he had to see Tom and Kate off early. The scenery was bubbly as Dean teased me for a while trying to describe all that transpired. I felt happy and believed Dean, as he came closer and comforted me. We had a long talk, and we decided to try out more swinging whenever we had broken.
Two nights after, we still had Tom and Kate over as we continued our escapade in Vegas. It was truly made in Vegas, and every time we spent brought us much closer and happier in love. This is where we began our SLS swinglifestyle.