What Is MMF And Sex Positions for Your First MMF Threesome Experience
Humans are known to always desire more especially when it comes to exploring for better orgasm, sex, or a better relationship. If your desires include something more on MMF(Male-Male-Female) threesome, below are all you need to get the nitty-gritty of how to actually get the best in maximizing these desires.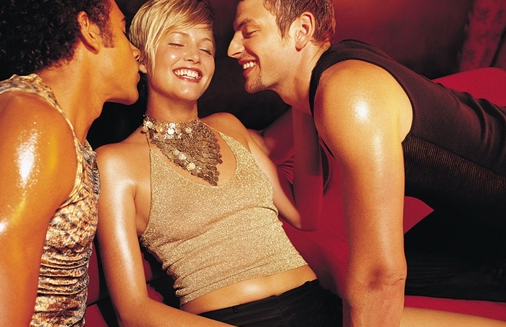 What is MMF?
An MMF(Male-Male-Female) threesome is a threesome involving two males and a female. It also may include bisexual play between the Male-Male. The acronym which signifies the same sex are positioned back to back (MMF) indicating a threesome which involves bisexual activity.
Sex Positions for Your First MMF Threesome Experience
The MFF threesomes feature several sex positions depending on the kind of experience you desire. The best sex positions for Your First MMF Threesome Experience have been carefully selected to involve position with options for more focus, without much touch, and positions where the males get to touch each other. The gender makeup of this threesome works best when all the moves have been discussed. You do not want some other party ego to ruin your desire and experience. Below are the best positions for Your First MMF Threesome Experience.
High Five:

This MMF position involves the famous Doggystyle with the female kneeling on her hands and legs and the first male penetrating from her back. The second male positions himself in front while the female gives him a blowjob. "The High Five" position allows both male parties to make eye contact while they are attached to the female. This is a great position for guys.

Doggy Blowjob

This position offers a slightly different approach to "the High Five" position. The first Male and Female are engaged in the Doggystyle while the second male, positioned in front of the female, lays on his back. This time the female lowers down to her elbows to perform oral on the second male. This is also a great position for nervous males having MMF threesome.

Reverse High Five

This position is another approach to "The High Five" position. Here, the female exchange's position with the male receiving blowjob. This time, the female lay on her back so as to accept oral sex. The two males perform anal sex Doggystyle and oral sex respectively on her. This position is great for males who seek anal during the threesome. And also great for females who enjoy oral more.

BJ Switch

In "The BJ Switch", both males take a position in front of the female. She goes down on her knees and switches off giving oral to each male. While giving oral to one, she can perform a hand job on the other. This is a fun approach for women who prefer giving oral and can put out a show acting the sex slave role.

Daisy Chain

In the Daisy Chain, all three parties perform oral on one another. They involved parties lay their bodies on the same side, and form a circle collectively. In the Daisy Chain, everyone gets to share similar giving and getting experience. It is great for anyone who enjoys oral more.

Double Stuff

If you desire to get/give the whole-hog with MMF, you can object for double penetration. This can be achieved with the first male laying on his back, at the bed edge. The female gets on top and performs the Cowgirl style. The second male stands and penetrates the female from behind.
A lot of people fantasize about several positions, but I can assure you these positions are insanely hot and are the best positions for Your First MMF Threesome Experience. There is nothing quite like having two different males in a sex romp, Have fun!